You already know that quotes on social media typically do very well but for some reason when you post them – you're not seeing the engagement or shares you desire.
I have recently seen a significant increase in my engagement and shares on both Facebook and Instagram, with the quote images I post and it's a results of 3 simple steps I follow every time.
I had to share them because I know it can make HUGE difference in not only your engagement but how appealing your page is to your ideal audience, because let's be honest nobody has time scroll down a dry page boo boo – so let's get into it…
Get in the head of your ideal audience
This is the most important step. What thoughts are going through their head? What is their personality like?
Once you know this – everything else is easy. Many people make the mistake of posting only "general", popular quotes. You know…those quotes you seen so many damn times that you just scroll pass it when you see it now.
Usually those quotes are great and all, and will still get some engagement and appeal to almost anyone; but your quotes be made to memorize your audience and practically repel those who aren't in your audience.
When your ideal audience sees your quote image, their face should brighten, because they should feel like:
"Oh my goodness; she get's me! I was just thinking this" or "YASSSSS, this is so me". 
Your audiences reaction to your quote image needs to be: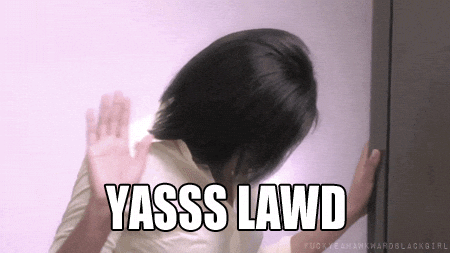 Below are different kinds of quotes I have used to to create this "YASSSS LAWD" effect on my audience lately:
The Thinkin' Aloud Quotes:
These are quotes that reflect what your ideal audience is thinking.
I posted this image on social media, and it received great feedback because women in my target audience can relate.
Why it worked: This may not appeal to an entrepreneur who is; male, or a woman who does use/care for makeup, or people who think I'm "unprofessional" for posing this way (yes those people exist) –
but that is totally the point. To attract my ideal audience and say "bye felicia" to those can't relate.
My ideal audience loves them a nice starbucks coffee in the mornings (tea is excepted), usually does not leave until she gets those eyebrows on fleek, and has a game plan she is ready to hustle on for the day. Therefore that post was giving life to my IDEAL audience and that is the effect you want to have.
Another post that received great engagement, below:
Why it worked: I know some ladies in my audience like a little trap music or any kind of rap for that matter and feel like they are expected to "be only" professional just because they are professionals at what they do.
I love working with women entrepreneurs that are "real" and not just all business – but can plug out and twerk a little.
Yes yes? So that's why this one was a success as well.
"You're speaking to me!" Quotes:
These are quotes that are like a response to something that may be on your target audiences mind.
Below is an example:
Why it worked: I know that the people in my audience may feel like what they are going through right now is overwhelming, so I want to them to know that I know, it's going to be okay and to keep pushing because when they make it; all those challenges will only prepare them for massive success and make their story more inspiring.
So when they see this I know their response would be a little breakthrough, or a reminder to keep moving, or just knowing that I get where they are right now or have been.
Research the most popular quotes on similar pages
I am ALL about originality but best believe I leverage what already works. What if you knew exactly which quotes got the most shares and likes on the pages you follow?
You can!
Use klear.com to research similar pages to yours because it will show you all their image posts in the order MOST likes to least likes.
Check this out. All of Marie Forleo's Posts from most liked to least across Twitter, Instagram and Facebook:
How I use it:
Marie has a similar(ish) audience to mine so I get ideas from her page as well as from a list of people I follow. It's a perfect tool to see what your audience will engage on the most, so research a page that has a similar audience to your brand.
Next, once I have chosen whose pages I want to search on Klear, I take note of which of their quotes I like that also have good engagement. Then, I tailor it to my audience even more.
Here is an example of how I do this:
I really like this quote that I circled AND it received a lot of likes on Marie's page…
Now that I have an idea and inspiration – time to tailor it to my audience….
YAS!
I do not always use Klear, but I do about once per week to gain new ideas!
Unfortunately, Klear does not show all pages and platforms of influencers so you have got play around with it but it is a GREAT tool as you can see.
Keep a Consistent & Beautiful visual style
Now that you've got the quote ready to go, the actual image design should be appealing.
Incorporate your brands' colors and fonts, and stay consistent with it. If you do have colors for your brand, choose them TODAY.
If your quote images resonate with your audience AND looks good, the like and share button will be clicked! Get ready for engagement.
I try to stay consistent with the visual appearance of all my images and quotes. Same color palette being used, and same fonts as well as the mood it gives (usually sexy, fun, bold, fierce etc.) as shown below.
On this post I share my top free tools for creating graphics.
That is the formula!
Get in the head of your ideal audience

Research popular quote images of other influencers

Keep consistent with your visual style
Those are my 3 steps to creating social media quotes that get shared.
What was your favorite takeaway? Let me know below!
Catherine
P.S. I will be having a LIVE 2 part workshop. DIY: Flawless Graphics; where I will sharing exactly how to create beautiful, high quality brand images and graphics quickly and easily using free tools. The graphics you see on this site and my social media pages were done by me and I am going to share how. You do not want to miss this. Click here for the info or contact me with any questions.

TIRED OF NO ENGAGEMENT OR CUSTOMERS FROM SOCIAL MEDIA. WATCH MY FREE VIDEO: 15 WAYS TO MAKE YOUR BRAND STAND OUT ON SOCIAL MEDIA NOW.